The Focused Leader is a meditative Leader
Focused Leaders
Founder of a consulting firm specializing in supporting Leaders through meditation called Ways & Lore, I have been practicing meditation for 27 years.
My partners and I are convinced that meditation is one of the major answers to the chronic uncertainty and confusion that is so prevalent in today's society.
We are so convinced of this that we have created Ways & Lore to try to help, with others, to reverse the current trend.
Our goal: to get Leaders around the world to practice Focus and become FOCUSED LEADERS.
And this becomes more and more evident as we receive testimonies from Leaders we have already accompanied on the path of Focus.
Because, above all, Focus Practice is about moving from chronic uncertainty to natural certainty.
So why is Focus the fundamental tool of the Leaders today?
Because, above all, it is about moving from chronic uncertainty to natural certainty.
There is more and more talk about meditation these days. However, what we are hearing remains mostly a superficial approach to the phenomenon.
What is said is mainly related to the development of calm, or the fact that meditation can be effective against stress, anxiety and depressive recurrences . Certainly, meditation can bring all this. However, these are only side effects.
Focus Meditation is about clarity
The first benefit of practicing Focus is clarity. That is to say, regaining a clear vision and the fundamental meaning of our action. It is thanks to the rediscovery of this clarity – which puts an end to doubt, confusion, uncertainty – that we can be calmer, more serene, much less stressed. We no longer confuse the general objectives of our company, our group or society… with our own, private objectives. This gender confusion is so widespread that everyone finds it normal now that the anxiety-provoking effect of the outcome continually spills over into our lives, at any time.
It is not. And Focus practice reveals all these games very clearly.
Besides, it's a great benefit for the companies as well. Because a clearer person, no longer mixing objectives, and being emotionally stable, is all the more effective.
It's a win-win situation. The Focused Leader is clearer within himself and therefore automatically clearer about his action.
The diffusion of Focus practice for decision-makers is a strategic issue for companies today. It concerns all sectors and can transform both individuals and the very way they work, negotiate, plan…
We desesperatly need Focused Leaders NOW!
The Focused Leader is universal. He is not limited by small issues, but takes into consideration a much larger scale of information. In addition, he has an increased ability to see clearly the connections that can affect his decisions. He takes into account a much wider range of signals and has the ability to analyze them directly and clearly.
No longer mixing welfare and profit, power and pressure, correctness and authoritarianism, he becomes measured in his choices as well as in his actions because he now truly takes into account those around him. He then makes it possible to develop all the talents from which he benefits himself; to generate collective success, beneficial to all; to create new value propositions, allowing for transformation and innovation; to break with conditioning, and thus to envisage without fear new paths to success, for himself, his employees, his organization, and society as a whole…
A Focused Leader is empathetic and caring: he knows with deep conviction that he cannot succeed alone, and so he leads everyone in his wake. This is the true meaning of what we are now hearing more and more: a successful Leader is caring. Having regained the meaning of his action, he automatically and naturally encompasses all employees. Be careful, however. The focused and benevolent leader has not turned into a marshmallow. He becomes more and more accurate. Often, with the rightness, firmness is present because the objective is not only individual, it is collective. Employees who are not right cannot lead to collective success either. Therefore, benevolence is above all related to correctness and not to kindness. The amalgam is no longer made as it usually is between benevolence and kindness.
The Focused Leader begins by clarifying himself before benefiting those around him. Indeed, he has become aware, through the practice of Focus, that if he is not himself clear, his actions will remain confused and will not be beneficial. It's the same principle as on a plane: you first put your oxygen mask on yourself to better place it on others, even on your own children.
The Focused Leader is more and more courageous: he dares where others prefer to remain in relative comfort built and maintained by habit. He dares, he is creative and innovative. Why does he dare? Because he discovers, through the practice of Focus, a new form of dynamism, more intelligent and measured. He is open to more potentialities and radiates them more naturally.
Finally (this is not the end of the list of qualities, but you have to stop somewhere or no one finishes reading…), the Focused Leader reconnects with his nature, with his roots, with his humanity. He remembers his past and reconnects with the sound of flowing water, with the sound of the waves, with the wind in the branches or the song of birds…
He becomes fair. To himself first. To all then.
He becomes aware once again with clarity of the current stakes of our world and our so-called modern societies. Now that he has rediscovered solid roots, he can face them with serenity. This calmness inspires all those around him and, who knows, it can help change attitudes and mentalities?
There is no doubt, our world is now in urgent need of leaders who can be really Focused!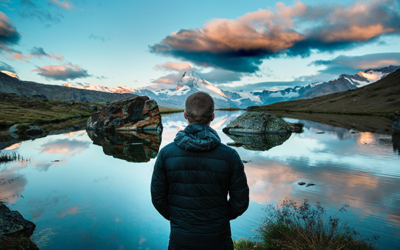 Transition, transformation, evolution, mutation... these are just some of the terms used repeatedly to describe the change affecting our societies...
Latest News on
Our Programs
Focus Practice
Focused Leadership
Innovating Projects
Change Management
Culture Change
And More…
Monthly News
We won't bother you!